Faculty Club Social Calendar for the 2022-2023 Academic Year
Event

Date

Time

Where

Dinner at the University Marriott
August 5, 2022

5:00 – 7:30 PM

Salt Lake City Marriott University Park
Beer and Cider Tasting

August 26, 2022

6:00 – 7:30 PM

Street Tacos at the Marriott

September 2, 2022

5:00 – 7:30 PM

Salt Lake City Marriott University Park
Dinner at the Marriott

October 7, 2022

5:00 – 7:30 pm

Salt Lake City Marriott University Park
Dinner at the Marriott

November 3, 2022

5 – 7:30 pm

Salt Lake City Marriott University Park
Kids' Holiday Event: Jump Around Utah
December 4, 2022

11:00 am – 1:00 pm


1519 S 700 W, Salt Lake City, UT 84104

Adult Holiday Event: Dinner and White Elephant


December 10, 2022

6:00 – 9:00 pm


Monson Center – 411 E S Temple St,

SLC
Wine Tasting
January 21, 2023

TBD

Dinner at the Marriott
February 3, 2023


5:00 – 7:30 pm

Salt Lake City Marriott University Park
Dinner at the Marriott
March 3, 2023


5:00 – 7:30 pm

Salt Lake City Marriott University Park
Dinner at the Marriott
April 7, 2023

5:00 – 7:30 pm

Salt Lake City Marriott University Park
Annual Membership Business Meeting & Dinner
Likely May 12, 2023

TBD

Salt Lake City Marriott University Park
Faculty Club Social Calendar for the 2019-20 Academic Year
| | | | |
| --- | --- | --- | --- |
| Event | Date | Time | Where |
| Faculty Club Hike | Jul 7, 2019 | 10 am | Red Butte Garden Loop |
| Faculty Club Annual Wildflower Hike & BBQ | Jul 13, 2019 | 9 am Hike; 11:30 am BBQ | Brighton Resort – Alpine Resort Lodge |
| Faculty Club Breakfast for All Faculty | Aug 20, 2019 | 7 – 9 am | Panorama room Student Union |
| Homemade Beer and Cider Tasting | Aug 31, 2019 | 4 pm |  Alun's House-Bring Beer and Appetizer to Share! |
| Opening Social: Croquet on the Lawn | Sep 6, 2019 | 5 – 7:30 pm | Salt Lake City Marriott University Park |
| October Social: Fall Menu | Oct 4, 2019 | 5 – 7:30 pm | Salt Lake City Marriott University Park |
| November Social: Beef Short Ribs | Nov 1, 2019 | 5 – 7:30 pm | Salt Lake City Marriott University Park |
| Faculty Club Pickle Ball | Nov 8, 2019 | 8 -10 am | Student Life Building |
| Women's Volleyball Night | Nov 22, 2019 | Pregame Pizza Party 6 pm; Game 7 pm | Pizza Party Huntsman Center South Lounge, Game @Huntsman Center |
| Faculty Club Children's Holiday Party | Dec 6, 2019 | 5:30 – 7:30 pm | Moran Eye Center |
| Faculty Club Holiday Dinner & White Elephant | Dec 10, 2019 | 6:30 social; 7- 10 pm Dinner and Party | Monson Center (click for address) |
| Faculty Club Wine Tasting Party | Jan 2020 | 7 pm | RSVP – Bring Wine and Appetizer to Share! |
| Feb Social: Valentines & Italian Buffet | Feb 7, 2020 | 5 – 7:30 pm | Salt Lake City Marriott University Park |
| Pioneer Theatre Preview | Feb 2020 | TBD | Pioneer Theatre  |
| Men's Basketball Night | Feb 20, 2020 | Pregame Pizza Party 6 pm | Pizza Party@Annex, Game @Huntsman Center  |
| March Social: Bangers & Mash | Mar 6, 2020 | 5 – 7:30 pm | Salt Lake City Marriott University Park |
| April Social: Grilled Flank Steak | Apr 3, 2020 | 5 – 7:30 pm | Salt Lake City Marriott University Park |
| May Business Dinner | May 2020 | 6 pm Social; 6:30 Dinner; 7:15 Meeting | Old Mill Golf Course |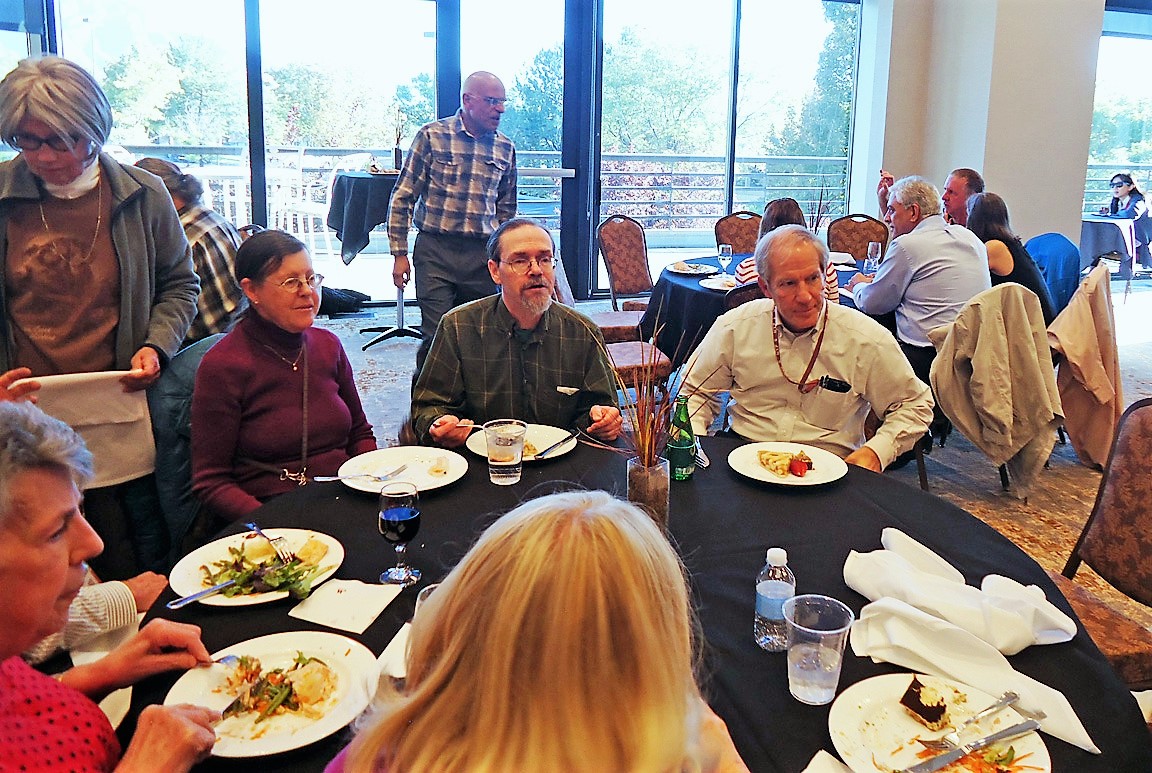 Faculty Club Social Calendar

for the 2018-19 Academic Year
| | | | |
| --- | --- | --- | --- |
| Event | Date | Time | Where |
| Faculty Club Hiking Group | May 20, 2018 | 7  – 9:30 pm | Bell Canyon |
| Wildflower Hike | July 22, 2018 | 9 am | Solitude Village, near Stone Haus |
| Opening Social: Croquet on the Lawn | September 7, 2018 | 5 – 7:30 pm | Salt Lake City Marriott University Park |
| Homemade Beer and Cider Tasting | September 8, 2018 | 4 – 6 pm | Alun's House-Bring Beer and Appetizer to Share! |
| October Social | October 5, 2018 | 5 – 7:30 pm | Salt Lake City Marriott University Park |
| November Social | November 2, 2018 | 5 – 7:30 pm | Salt Lake City Marriott University Park |
| Women's Volleyball Night: UofU vs Ariz | November 9, 2018 | Pregame Pizza Party 6 pm; Game 7 pm | Huntsman Center  |
| Faculty Club Children's Holiday Party** | December 7, 2018 | 5:30 – 7:30 pm | Moran Eye Center |
| Faculty Club Holiday Dinner | December 13, 2018 | Social 6:30 pm, dinner 7 pm | Monson Center (click for address) |
| Wine Tasting: Western States' Wines | January 19, 2019 | 7 pm | RSVP – Bring Wine and Appetizer to Share! |
| Feb Social: Valentines & Italian Buffet | February 1, 2019 | 5 – 7:30 pm | Salt Lake City Marriott University Park |
| Pioneer Theatre Preview: Once  | February 13, 2019 | TBD | Pioneer Theatre  |
| Men's Basketball Night: UofU vs Arizona  | February 14, 2019 | Pregame Pizza Party 6 pm | Pizza Party@Annex, Game @Huntsman Center  |
| March Social: Bangers & Mash | March 1, 2019 | 5 – 7:30 pm | Salt Lake City Marriott University Park |
| April Social | April 5, 2019 | 5 – 7:30 pm | Salt Lake City Marriott University Park |
| | | | |
---
The December Holiday Party on December 13th includes dinner and a white elephant gift exchange. Our boisterous end of year business meeting also has a full dinner.
**One of the Faculty Club's longest-standing traditions is planning and hosting the Children's Holiday Party—December 7 at the Moran Eye Center this year–for all University-related kids. Balloon animals, singing, dancing, theatrical productions, magic show and crafts – we host it all!
The University of Utah Masters in Theatre Performance students, under the direction of colleague David Schmidt, will again be performing at our annual Children's Holiday Party, December 7th, in the beautiful Moran Eye Center lobby, complete with 25 foot Christmas tree. Join the party, if you have young children or grandchildren that would enjoy: 
seeing a balloon artist make a balloon for you
meeting Santa for a picture op
meeting international families to hear about other traditions around the world
having your face painted
creating holiday crafts
laughing with a crazy magician
Come join us!  Or, if you would like to volunteer, join and come help with the events. 
-Faculty Club President Xan Johnson
Social Calendar for the 2017-18 Academic Year
| | | | |
| --- | --- | --- | --- |
| Event | Date | Time | Where |
| Cabin Bash | June 24, 2017 | 12 pm – 6 pm | Faculty Club Cabin (outside Kamas, UT) |
| July Wine Tasting | July 15, 2017 | 7 pm – 9:30 pm | Lea's House |
| Wildflower Festival Hike | July 22, 2017 | 9 am | Brighton Resort- Milly Chalet |
| Red Butte Garden Docent Tour | August 13, 2017 | 9 am | Red Butte Garden |
| Pickleball | August 22, 2017 | 5:30 pm – 6:30 pm | Student Life Center |
| Homemade Beer and Cider Tasting | September 2, 2017 | 5:00 pm – 7:00 pm | Alun's House |
| Opening Social | September 8, 2017 | 5:00 pm – 7:30 pm | Salt Lake City Marriott University Park |
| October Social | October 6, 2017 | 5:00 pm – 7:30 pm | Salt Lake City Marriott University Park |
| Utah Volleyball Game | November 2, 2017 | Pizza @ 6 pm, game @ 7 pm | Huntsman Center |
| November Social | November 3, 2017 | 5:00 pm – 7:30 pm | Salt Lake City Marriott University Park |
| Children's Holiday Party | December 8, 2017 | 5:30 pm – 7:30 pm | Moran Eye Center |
| Faculty Club Holiday Party | December 14, 2017 | Social time @ 6:30 pm, dinner @ 7:00 pm | Monson Center |
| Wine Tasting Party | January 13, 2018 | 7 pm | Eleanor's House |
| February Social | February 2, 2018 | 5:00 pm – 7:30 pm | Salt Lake City Marriott University Park |
| Men's Basketball Game | February 8, 2018 | Pizza @ 5 pm, game @ 6 pm | Pizza @ Annex cafe, game @ Huntsman Center |
| March Social | March 2, 2018 | 5:00 pm – 7:30 pm | Salt Lake City Marriott University Park |
| April Social | April 6, 2018 | 5:00 pm – 7:30 pm | Salt Lake City Marriott University Park |
| May Business Dinner | May 6, 2018 | 6 pm | Old Mill Golf Course |
| Cabin Bash | June 23, 2018 | TBA | Faculty Club Cabin |
The views, opinions and conclusions expressed in these pages are strictly those of the page author. The contents of the site have not been reviewed or approved by the University of Utah. Please send comments and suggestions to senate@utah.edu